In a pandemic, we're looking to clean a little differently
With the COVID-19 virus* in the news, many of us want to know how to clean our homes more effectively. We chatted to Dr Lisa Ackerley to find out more.
Here's why antibacterial wipes, disinfectant sprays and targeted hygienic cleaning have never been more popular.
We all know hygiene is the foundation of health and so good hygiene practices are essential. Since the COVID-19 pandemic, we're spending more and more time searching for ways to clean and disinfect our homes, and less time caring about our non-essential appliances (like irons).
This shift has been summarised in a series of infographics below, but these only tell half the story. While we want to keep our homes clean and more hygienic, how do we carry this out most effectively? To answer this question, we spoke to Dr Lisa Ackerley. Dubbed the "Hygiene Doctor", Dr Ackerley is a Professorial Fellow of the Royal Society for Public Health and a guest on popular TV shows. She has amassed 30 years of experience educating people on the importance of disinfecting their homes in the right way.
Her thoughts, as well as the shifting habits of the UK population, are up next.
How our cleaning routines have changed since the COVID-19 virus*.
Our cleaning interests are changing
We're more interested than ever in discovering how to disinfect our homes - not just clean them.
Increase in Interest - How to disinfect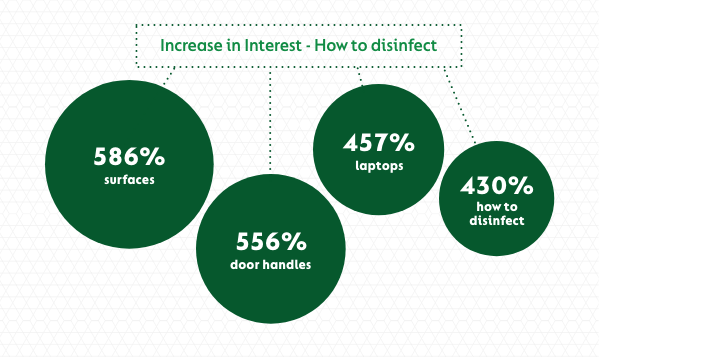 586% surfaces
556% door handles
457% laptop
430% how to disinfect
Source: Google Keyword Planner. Data March-May 2020.
Increase in Interest - How to clean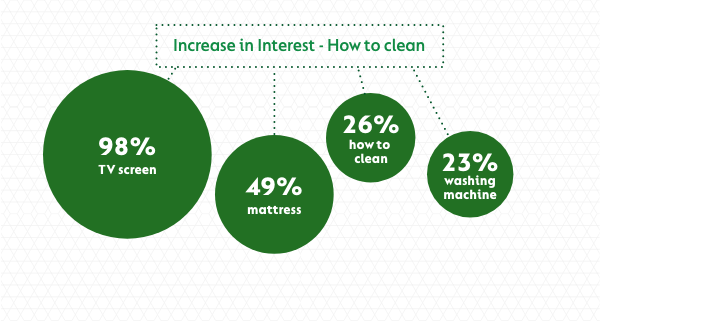 98% TV screen
49% a mattress
26% how to clean
23% washing machine
Source: Google Keyword Planner. Data March-May 2020.
More and more of us want to know how to "deep clean" our homes
While non-essential appliances (like irons) are getting less of our attention.
Increase/decrease in Interest - How to (increase)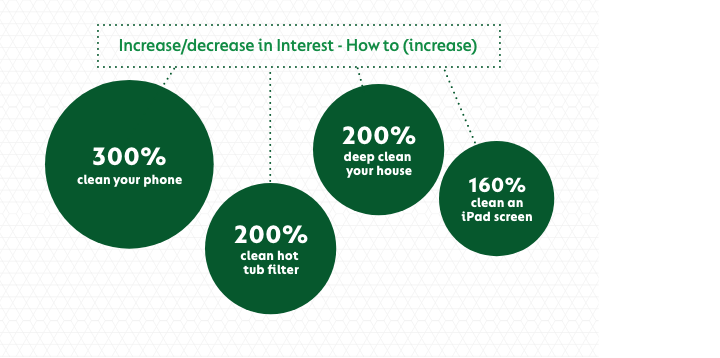 300% clean your phone
200% clean hot tub filter
200% deep clean your house
160% clean an iPad screen
Source: Google Trends and Google Keyword Planner. Data March-May 2020.
Increase/decrease in Interest - How to (decrease)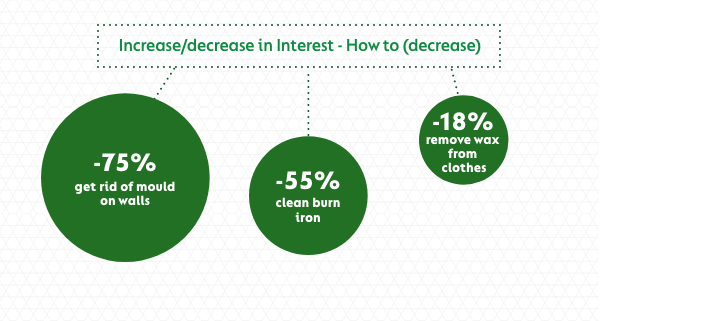 -75% get rid of mould on walls
-55% clean burnt iron
-18% remove wax from clothes
Source: Google Trends and Google Keyword Planner. Data March-May 2020.
Takeaway #1: We're focusing on disinfecting door handles (infographic 1).
Disinfecting door handles has seen a surge in interest - more and more people in the UK want to know how to do this properly (+556%).
According to Dr Ackerley, this is a good thing. Door handles are frequently touched surfaces that can play a part in helping the spread of infectious viruses.
A solution? Regularly clean and disinfect frequently touched surfaces with antibacterial wipes, which kill bacteria and viruses**. It's important to remember that your hands don't need to be visibly dirty to transmit bacteria and viruses, and so it's important to wash your hands thoroughly at key moments – such as when you arrive at your destination (home, school or work) or after going to the toilet.
Takeaway #2: More and more people want to know how to "deep clean" their homes (infographic 3).
Have we become a nation obsessed with "deep cleaning"? If the data is anything to go by, we might be headed that way (+200%).
But Dr Ackerley says the phrase is largely meaningless, and not something to even focus on, since many of us are not disinfecting the things that really matter – "such as our hands when we arrive home."
Instead, the goal is to break chains of infection through targeted cleaning.
Concentrate on cleaning and disinfecting the surfaces you regularly touch with your hands
For example, door handles, handrails and the toilet flush. The same goes for food preparation areas, fridges and cupboard door handles in the kitchen. These are far more likely to cause the transfer of germs than a greasy floor.
Sure, there's a time and place to disinfect the kitchen floor – especially if it looks and feels dirty, or if you have a baby crawling on it – but often the real health risks are posed by the things in our everyday life that we touch frequently with our hands.
Takeaway #3: Laptops are a source of concern (infographic 1).
There's been a surge in the number of people looking to disinfect their laptops (+457%). According to Dr Ackerley, if you're at home and you've washed your hands at key moments – e.g. when you get inside – and you've taken care to wipe down surfaces as per the points above, then the risks are really low. This is provided no one else is using the device.
However, going into an office environment and sharing equipment is a different matter. Here, you need to take greater precautions, such as washing your hands as soon as you get into the building, then taking a suitable antibacterial wipe** to the laptop, mouse, and keyboard at your hot desk.
How bacteria and viruses can hide in plain sight.
Journey of a Virus


After buying food and essential supplies, you open the shop door to leave. Unbeknownst to you, someone who is unwell has coughed into their hands and opened that same door minutes earlier.

You return home. Forgetting to wash your hands, you move through the house, grasping door handles and touching surfaces along your way.

Chains of infection begin to occur, and minutes later, you touch your face, possibly infecting yourself.

Other members of your household touch the same surfaces and possibly infect themselves too.

The key? Washing your hands is the priority when you return home - and remember, regularly disinfect the surfaces you touch.
The scenario above illustrates the ease with which viruses can come into our home - often when we least expect it.
This is by no means the only situation we could think of, however.
For instance:
Back from the supermarket? Store raw chicken on the bottom shelf so that if there is a leak in the packaging, juices which may contain bacteria won't drip onto ready-to-eat foods such as ham and cheese.
Using bleach regularly in the bowl of the toilet? Make sure you disinfect the toilet flush handles as well – an area that often gets overlooked – or you risk undoing a lot of your good work.
Ultimately, try to think about germ transfer hotspots – these are surfaces that are regularly touched by other people and may be contaminated with pathogens as a result. They don't have to be visually dirty to pose a risk.
Do we clean to impress others?
In part - yes. But self-pride and mental health are also important factors.
A clean home leaves a positive impression on others
28% Strongly Agree
52% Agree
A clean home is important for health

23% Strongly Agree
51% Agree
Pride is a key factor in cleaning

24% Strongly Agree
47% Agree
The house should be spotless when entertaining friends or family

23% Strongly Agree
43% Agree
Source: Lightspeed/Mintel (2020)
What about the future?
While the COVID-19 virus* might have changed our habits, cleaning is not just about getting rid of germs. Rather, it's also a holistic activity that bolsters our sense of wellbeing (infographic 6).
And so when mixing between households is allowed, many of us will begin to open our doors again to the outside world; in doing so, we'll tidy and clean, and try to present the best version of our homes possible.
With that in mind, here are some easy hygiene tips to focus on; tips that will ensure your home is hygienically clean when guests visit your house.
Change shared items – such as your hand towel in the bathroom – every day. If you have guests or people coming to work in your house, provide paper towels and a bin and ditch the cloth towel.
Disinfect frequently touched surfaces such as door handles, handrails and toilet flush handles before guests arrive and after they have left.
Prevent cross-contamination. For example, keep chicken on the bottom shelf, and wash utensils/boards and your hands after prepping raw meat, poultry, fish or soiled vegetables.
Leave germs at the door: take your shoes off when you come inside the home and leave them at the door - and wash your hands immediately.
Keep the lid of the toilet down when you flush to prevent bacteria rising up onto the surfaces you regularly touch.
In the end, keeping a clean and hygienic home doesn't need to take up the whole day. To kill bacteria and viruses, it is better to focus on small disinfection tasks but perform them regularly (little but often). In this way, you can break the chain of infection through targeted hygiene. Then, when you have an afternoon free, and you have the urge to deep clean, you can focus on other tasks (like cleaning the entire floor or skirting boards) to give your home that sparkling finish.
*COVID-19 virus = SARS CoV-2
**Kills 99.9% of bacteria and viruses. See information on pack. Use biocides safely. Always read the label and product information before use.